As customers prepare for an unusual holiday season, StormWise is launching a cash-back offer to put more money back in customers' pockets. You may have seen our offer on Facebook and in Yahoo Finance and may be wondering how it works.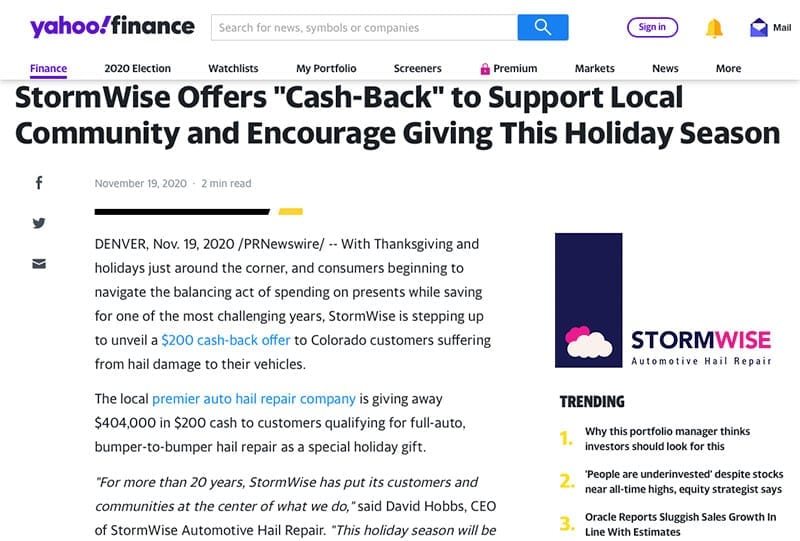 When it comes to hail dent repair, it's easy to get caught up in various offers and industry jargon – we explain what it all means and how it works in real life.
Pay No Deductible
An insurance deductible is the amount you pay towards the repair cost before your insurance coverage kicks in. Unlike health insurance deductibles, auto deductibles are NOT annual deductibles, but the amount that you're responsible for every claim you file.
For example, if you file for an auto hail repair claim and you have a $500 deductible on the comprehensive coverage, your insurer will pay for the entire hail repair cost, minus your deductible.
As an independent repair company, StormWise works with all insurance companies and uses an insurance-approved pricing matrix to assess the hail damage cost, a large portion of which is the paintless dent repair (PDR) cost. Because such costs are not hard costs such as material and part replacement, it allows us to dig into our pocket and cover our customers' out-of-pocket costs.
StormWise Deductible Coverage Offer
We have two deductible offers in 2020:
Cover up to $500 deductible:

This is our standard offer to help cover customers' out-of-pocket costs.

This offer can be layered with one other offer below, such as the $200 cash-back or a complimentary free rental car – if your insurance coverage doesn't include one.


Cover up to $1,000 deductible:

This is our special offer for 2020. For most customers, the $1,000 covers everything they have to be otherwise responsible for.

You cannot combine this offer with any of the other offers below.
Does that mean you're overcharging?
Not at all.
As mentioned above, insurance companies have to approve the estimate provided. Not only do we use insurance approved pricing matrix for PDR, but we also use the same book time that insurers use to assess R&I (remove & install), replaced parts, and any materials needed to do the job.
Does that mean you're cutting corners?
Never!
Quality means everything for StormWise. Although it's a cliché, we deeply care about what we do. More often than not, we'll fight for our customers to get more covered by your insurance company. We make sure every dent is included and every broken part (from hail) is repaired correctly or replaced.
If something goes wrong, we will do whatever it takes to make it right. For every hail damage we repair, we stand behind our work with a lifetime warranty – if your dent comes back, we'll fix it again, for free.
StormWise $200 Cash Back
This is our special holiday gift to customers qualifying for full-auto, bumper-to-bumper hail repair.
We all know this year's holiday season is going to be different, and we're putting $200 extra back to customers' pockets as our way of saying thank you – Thank you for choosing StormWise for your hail repair!
We hope this cash-back offer helps all of us build up our local communities and inspire everyone to do good in their corner of the world.
As mentioned above, this cash-back offer cannot be combined with the $1,000 deductible coverage.
Free Rental Car
Our offers are designed to make your auto hail repair experience as easy and as convenient as possible. Understanding your vehicle is an instrumental part of your life; we want to make sure you have a backup option when we repair your car, especially when your insurance policy doesn't include rental coverage.
StormWise will cover up to $35 per day for a rental car. On average, rental cars cost $17 per day, so this is more than enough for most customers' needs. We will even meet you at the rental facility to make the switch easier!
Other Benefits of Choosing StormWise
When you trust StormWise for your vehicle's hail repair, it is our job to take care of it, and we do everything we can to keep that promise.
We'll handle your insurance
With more than 20 years of experience, we've seen it all with every insurance company and have built a reputable relationship with all major insurers. Many of them use the StormWise estimate as their adjustor's estimates for auto hail repair.
If you haven't filed a claim when you contact us, we'll file it for you, schedule the adjustor's appointment, and everything associated with insurance.
Lifetime Warranty
One of the benefits of Paintless Dent Repair is that once the metal has been bent back to its original position, it will stay that way for the life of the vehicle – and we will stand behind our work for a lifetime. If anything ever comes up with your car down the line that you believe to have been a result of our repair, call us and we will make it right!
Free valet
For those who do not want to drive the distance to get to our shop, we offer a free valet service to pick up and drop-off your car for full auto hail damage repair.
100% satisfaction guaranteed
Customer service is as important as our repair work. Over the years, we've served more than 1,000 happy customers and have received hundreds of 5-star reviews.
A Very Happy Holidays from Our Team at StormWise
We hope that our special offer will ease a few financial worries, and help support our community's economy, as the winter rolls in and we begin to spend much-needed time with our loved ones once more.