According to the Insurance Information Institute, damage related to hail storms costs between $8 billion and $14 billion every year. Texas sees the most impact of any state in the country, with Colorado in a close second.
Comprehensive car insurance, including hail damage car insurance, covers damage to your car from non-collision events. These are things like a falling tree, hitting an animal, or a weather-related incident.
But filing a claim can be complicated. And any missteps can leave you dealing with a lengthy restoration process or haggling with an insurance company for payment.
If your car has been damaged by hail, keep reading to find out what steps you should take to get it fixed. And you can do so without paying a dime for the repairs.
Hail Damage Car Insurance – Comprehensive Insurance
Hailstones range in size from about 1/4 inch to over six inches. They can weigh over a pound and travel at speeds of up to 100 miles per hour. It is easy to see how hail damage can total a vehicle.
If you have comprehensive coverage on your policy, it will almost certainly cover hail damage, but it's a good idea to double-check. Some policies exclude weather-related events and require a special "wind coverage," especially in areas prone to hailstorms.
Hail Damage Claims Process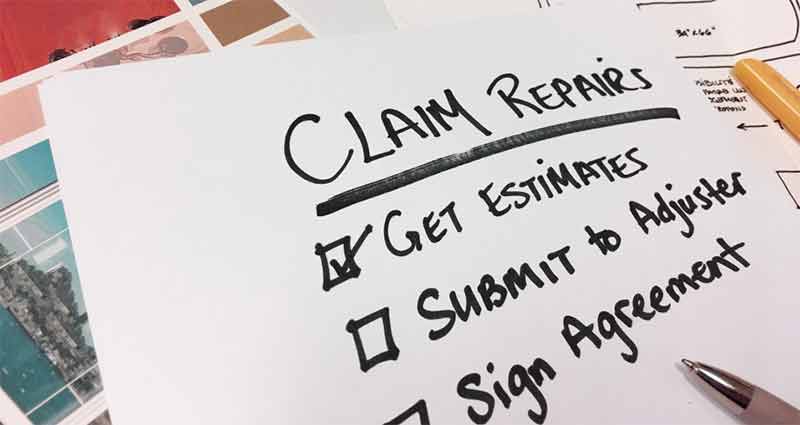 The process works like this: you file a claim with your car insurance. Then the insurance company assigns an agent (adjuster) to assess the damage to your vehicle. They may recommend a body shop, but you have the right to choose any repair business to work on your car.
If possible, you will want to have paintless dent repair done to your vehicle. Traditional repair methods bang out the dent as much as possible, then use putty to smooth out the surface. Once the filler dries, the area must then be sanded and repainted.
Paintless dent repair uses special machines to return the surface to its original form. For this reason, the damage doesn't appear on accident reports, because it was reversed, not fixed.
This also is why it is important for you to take control of the process of fixing your vehicle. You don't want the insurance company to dictate every step of the repairs process. You should select the body shop of your choice and be involved in the decisions made about your vehicle.
Factors That Delay Repairs – Insurance Supplement
When an insurance adjuster makes an initial assessment of the damage, he or she may miss something. When this happens, the body shop writes an auto insurance supplement to pay for the difference in the repair cost.
This is not uncommon, but it is problematic because it creates a back-and-forth between you, the adjuster, and the technicians doing the repairs. You want your car restored to its pre-storm condition. But your insurance company wants the repairs to be done as cheaply as possible.
Let Your Repair Shop Handle Your Insurance Claim
At StormWise, we take care of this process for you, from the initial claim filing to any supplemental costs requested. We deal with the insurance agency to make sure that they pay for whatever repairs are warranted.
We have a proven track record with many prominent insurance companies like Geico, The Hartford, State Farm, and many others. Often, they won't even assign an adjuster to audit the supplement. They simply go with our estimate, based on our proven track record of integrity.
This also means a faster turn-around on your claim. We will get the process started and make sure your car is repaired properly and as fast as possible. We'll eliminate the hassle and time you would otherwise spend on your hail damage car insurance claim.
What About the Deductible?
It is important to know that insurance deductibles do not work like health insurance ones. You pay a deductible for each incident, regardless of how many there are during a coverage period. If you have a $500 deductible, you will be responsible for paying that amount every time, even if your car is in a half-dozen hail storms in a single year.
If you assume the hail damage to your car is less than your deductible, you may think it's not worth it to file a claim. There are a few reasons to reconsider this.
First, you may assume it is not worth the risk of impacting your premiums. But this should not be a factor. Weather-related events are not your fault, so even several claims will not impact your rate. This is why you have coverage: to protect your vehicle from damage, especially when it is beyond your control.
Next, the damage may be more significant than you think. Dents and dings can be difficult to fix and can be very expensive to fix. In fact, the average hail claim is around $6,500. This could translate to greater loss in the future when you sell your car.
If you carry comprehensive insurance, your car is probably in pretty good shape already. Hail damage can dramatically lower the value of your car, so put the insurance to use and have it fixed. You will thank yourself down the road.
And with StormWise you have no reason to let prospective out-of-pocket costs hold you back. We will pay for your deductible up to $1,000. So, you have nothing to lose by letting us handle your claim.
Also, we'll even cover the cost of a rental car, if your insurance doesn't already include that.
File a Claim Today
Now that you have an idea of how the hail damage car insurance claim process works, you can get the ball rolling on getting your car fixed and being compensated for it. You have nothing to lose and everything to gain by letting StormWise handle this process. We have been doing this since 1997 and will ensure that your claims process runs as efficiently as possible.
We also have a team of customer service personnel to answer any questions about the claims or restoration process. We provide phone and online chat options so that you can always connect to someone who can give you the information you need. We'll ensure that you are kept up-to-date throughout the entire restoration process and are satisfied with the final results.