If you have a lot of questions about auto hail repair, this article has all the answers. Below is a quick look at some of the most common inquiries that come up from car owners who have suffered from hail damage.
1. Will auto insurance cover hail damage?
This is a common question for a good reason. For a short answer, it is dependent on the type of insurance coverage you have to cover your car. If you only possess liability insurance, this isn't going to cover any damage that was the result of hail.
If you have comprehensive insurance, however, this will protect you – and your vehicle – if hail damage occurs. This also applies to any scenarios where forces damage your vehicle out of your control.
2. How much does paintless dent repair cost?
Rather than traditional dent repair, people opt for paintless dent repair (PDR) as it is the better, faster, and more affordable option.
In general, the average PDR cost for hail repair can start at $2,500 and go beyond $10,000. But if you possess comprehensive auto insurance, this should cover for the repair payment minus your deductible, which we can also help with.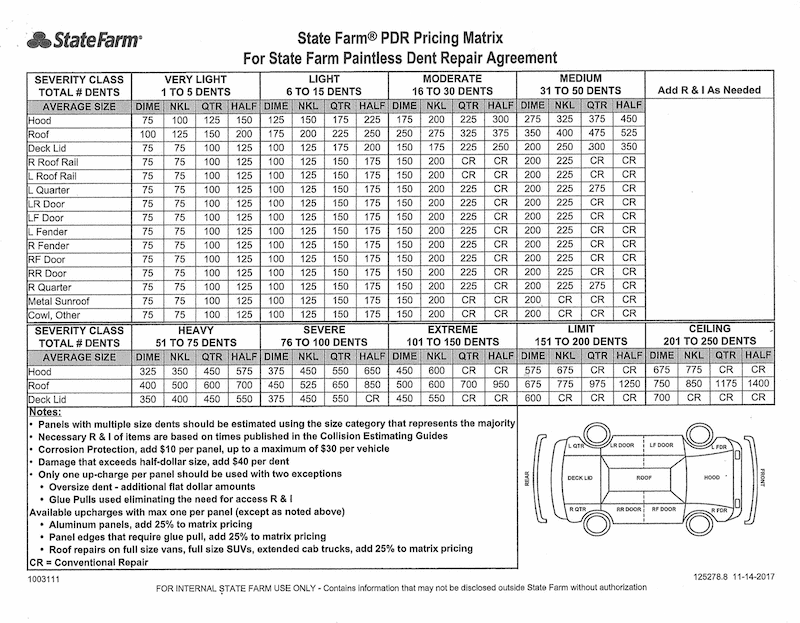 When working out the cost of your damages, most insurance companies estimate the cost of your repair with a similar pricing matrix. The details of this matrix might alter depending on the company, but they all help to determine the cost of repairs based on how many dents are on each vehicle panel and how large the dents are. We use the same matrix as the insurance company to make sure your claim will be approved.
3. How to repair auto hail damage?
It is possible to try and repair your vehicle following hail damage. There are various DIY guides available on the internet, and small dings and dents can seem easy to correct. However, it is a much more challenging process than it may initially seem and is best left to the professionals.
In general, there are two main methods for professional auto hail repair: traditional dent repair and paintless dent repair. The latter is the industry standard these days due to the speed, quality, and reduced cost of PDR.
4. How much does hail damage devalue a car?
Based on our long history of repairing hail-damaged vehicles, we've estimated the average cost of auto hail repair is $6,500. This is because the damage generally affects several car panels that need to be fixed.

As for how much this devalues a car, this is dependent on various factors revolving around the vehicle itself. These factors include the car type, age, and condition. When the repair cost exceeds approximately 50% to 60% of the vehicle's value, this could lead to it being written off as a total loss.
5. How is hail damage assessed on a car?
There are four main parts to consider when it comes to a hail damage assessment. These are:
Paintless dent repair: The time and labor required for a technician to complete the PDR process. Try this PDR calculator if you need a rough estimate.
Remove and install cost: The R&I covers the labor cost of removing and installing vehicle parts required to complete the PDR.
Part replacements: If the hail damages car components like the windshield, these need to be replaced with new parts.
Sales Tax: Colorado doesn't include sales taxes on labor costs, only on vehicles.
A car may also require paint damage repair. To ensure you receive a fair and accurate price assessment, take your vehicle to a reputable company like StormWise.
6. How much does insurance pay for hail damage?
Assuming you have comprehensive coverage for your car, the good news is that you're not going to be hit too hard with out-of-pocket costs. Your insurance provider will cover the bulk of the cost, assuming you use a qualified repair shop like StormWise, of course. In Colorado, the average claim sits around the $6,500 mark.
With StormWise on your side, your deductible is covered. This means you don't have to suffer the stress of filing an insurance claim to repair the hail damage.
However, it's important to realize and be aware of some of the issues of getting an insurance payout on your hail damage.
The first thing to consider is how most insurance companies want to pay for the repair as cheaply as they possibly can, which may not be the best choice for customers.
To avoid this nasty surprise, it's always recommended to get an estimation from a reputable repair shop so that you're fully aware of the amount that your insurance needs to payout.
Additionally, 2020 has created an extra challenge, as most insurance companies ask for a photo of the damage from a customer to assess it, rather than seeing the vehicle themselves. As hail dents are hard to spot in photographs, this may lead to your initial estimates from your insurance being far lower than what you actually need.
When you work with a hail repair specialist, like StormWise, we make sure your insurance companies pay for the full repair, including the damage not included in the initial estimate, with an adjustment, which is called Supplement.
7. Can you drive a hail damaged car?
Most cars are only afflicted by cosmetic damage following a hail storm. However, severe hail storms can result in significant damage. This damage could include a smashed windshield and windows, broken taillights, and impacted frames.
With all of this damage, it's safe to say it can be safe to drive a hail-damaged car. Yet don't be fooled by what seems like just cosmetic damage, either. The hail could cause the vehicle's body metal to decline.
Also, driving a hail-damaged car has the risk of losing out on insurance payout if that car is involved in an accident or other incidents causing further damages.
8. Does hail damage claim raise auto insurance rates?
If you have comprehensive insurance, the answer is a simple one: No.
So what's behind this great news where a hail damage claim doesn't see an increase in those auto insurance rates? This is simply down to hail damage being caused by forces you have no control over. Insurance companies don't class this as a reason to increase your rates, so you're safe if you file a claim relating to hail damage.
9. Can you trade in a hail damaged car?
Yes, it's possible to trade or sell your car if it's currently hail damaged. With that said, don't expect it to be a walk in the park.
In actuality, you're going to have a seriously difficult time trying to shift your vehicle onto someone else. Plus if you do manage to find a buyer, only expect to receive a fraction of its value when it is in full working order.
10. When does hail damage total a car?
If the hail damage has resulted in a repair estimate that exceeds the vehicle's total, your insurance provider may consider it totaled. Sadly you cannot change that decision once the insurance company totals it, but there are ways to get more out of that situation.
For instance, always negotiate the true value of your car.
Face it: insurance companies want to avoid paying out as much as possible. This is why they will use the lowest comparable vehicles as a benchmark to measure your vehicle's Actual Cash Value. As a result, always contest that first ACV and provide proof your car is worth more than they claim.
Have Other Questions?
Let us know! Contact us about everything car hail repair related – no strings attached. You may be surprised how easy and economically an experienced company can fix your dent and get you back on the road.