Your car got damaged in a hailstorm and you're now looking for a way to get it repaired. After performing extensive research, you've decided it's best to get it fixed using paintless dent repair. It's non-intrusive, less expensive, more environmentally friendly, and is often able to retain your car's original value and paint job. How much is paintless dent repair for hail damage though?
The costs associated with paintless dent repair for hail damage can depend on a variety of factors. These include where the car got damaged, how much damage there is, and how severe these are. Additionally, the price would depend on which hail damage auto repair shop you go to and how your insurance decides to cover it.
Read on to find out all about the money side of paintless dent repair, and how you can get the best service at the best price possible. Watch out for markups that incur extra costs and make sure to got to expert repair shops when you inquire about how much is paintless dent repair for hail damage.
The Average Cost of Paintless Dent Repair
Based on our database – compiled from over 20 years of experience –the average cost of a full paintless dent repair for hail damage is around $6,453. It can run as high as $16,875, or as low as $2,511. If the damage is minimal, it can be less.
This averages out to about $50-$150 per dent, which is much cheaper than traditional dent repair (which can average $125-$325 per dent). However, identifying the total cost isn't as simple as counting dents. There are several more factors to consider.
The PDR Pricing Matrix
When checking how much is paintless dent repair for hail damage, the cost can usually be identified using the PDR pricing matrix. The matrix takes into consideration the extent and placement of the damage as well as several other components to calculate its price.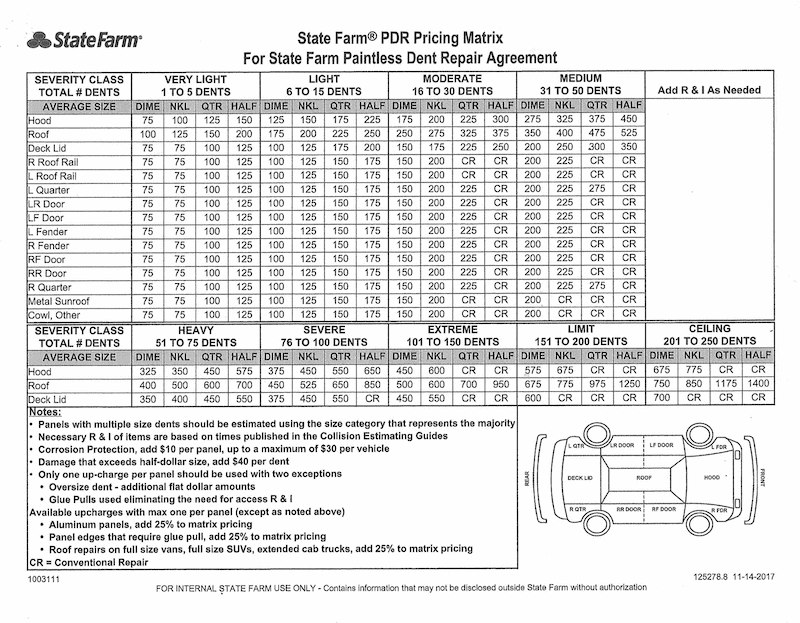 Regular Factors
The PDR pricing matrix essentially works by counting the size and number of dents on each part of your car. There are four categories of dent sizes:
Dime
Quarter
Nickel
Half dollar
These are further divided by how many dents there are in a given area, which is counted on a severity scale. The severity rating goes through 9 levels, ranging from very light (1-5 dents per area of the car) to ceiling (201- 250 dents per area of the car).
Each combination of dent size, severity, and location has its own price range. These are then tallied up to estimate your car's total repair cost.
Extra Costs to Consider When Checking How Much Is Paintless Dent Repair for Hail Damage
Of course, cars occasionally have damage that may need heavier or specialized repairs that the pricing matrix doesn't include. In these cases, extra costs are applied accordingly. Before checking how much is paintless dent repair for hail damage, keep in mind these common special markups that include:
Glue Pull
Glue Pull is a special technique that involves applying hot glue to a tab placed on the damaged area of the car. Then, the tab is pulled to restore the original shape of the dented area. This procedure usually runs at a 25% markup.
Oversized Dents
These are dents that are bigger than the half-dollar limit set in the PDR Pricing Matrix. They typically run at $40 extra per dent.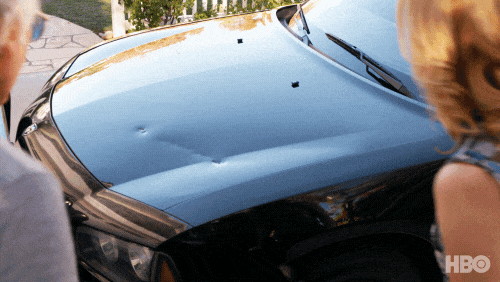 Aluminum and High-Strength Steel (HSS)
For cars with panels made out of high-strength steel or aluminum, extra work is needed to effectively repair the dents. A 25% markup is usually applied to the cost calculated in the pricing matrix.
Extra Considerations
There are several other special cases that may add extra cost to your paintless dent repair procedure, such as double metal or cars with extended roofs.
There may also be cases where extra work needs to be done beyond PDR, such as part replacement (like for a damaged windshield), or extra paint job or minor bodywork to smooth things up after PDR is done. These will accumulate extra costs that need to be taken into consideration.
If you are wondering how your particular case stacks up, you can get an estimate by using our free hail damage car repair cost calculator.
Insurance
Now that you have a better idea of how much is paintless dent repair for hail damag, you're likely thinking about how much you will personally have to pay. After all, insurance can make the difference between shelling out thousands of dollars and walking away at almost zero cost on your end.
Most comprehensive coverage insurance plans will cover paintless dent repair, and a reputable hail repair shop like StormWise will work with your insurance to make sure all damage is covered in the estimate by your insurer. Insurance typically calculates its costs based on the same PDR Pricing Matrix.
If you're worried about whether your insurance covers paintless dent repair, here are several things you need to keep in mind:
Make Sure You Have Comprehensive Coverage
If you live in a hail-prone area like Colorado, having a comprehensive coverage plan is imperative.
This type of coverage covers weather-related events such as hail, helping keep repair costs low to none. Comprehensive Coverage Plans usually cover paintless dent repair for hail damage as well as other regular costs associated with it.
Report the Damage Immediately
Some people make the mistake of not reporting mild to moderate hail damage because they think it's not that big of a deal. They may also be trying to avoid raising their insurance rates. Others may think it's a waste of time to fix their car when there's a risk it might be damaged again later on.
Before you inquire about repair options or how much is paintless dent repair for hail damage, it is important to report the damage first – as soon as it happens. Below are several reasons:
Comprehensive Coverage will not raise your rates for weather-induced damage, so you don't have to worry about this. Even seemingly 'minor' or 'cosmetic' damage can create larger, unseen problems. They can also compound with future damage which will lead to more severe problems.
Reporting 2 or more hail damage events as 1 event is technically considered insurance fraud, which can interfere with how your coverage is distributed. You may end up not getting coverage for the first hail event because it can be considered 'prior damage'. Even if it seems unnecessary, make sure you document the damage with detailed photographs and report it as soon as possible.
Work with a Reputable Hail Repair Company
Not only can a reputable and experienced auto repair company like StormWise deliver quality results, working with experts is also beneficial in terms of your total out-of-pocket costs. Car repair experts are sure to give you a fair price when you inquire how much is paintless dent repair for hail damage.
Professional and established auto repair companies will work with insurance adjusters to make sure the full cost of the damage is reported, including supplemental payments. This ensures that there are no unexpected extra costs that never got reported to your insurance company. StormWise will work with you on every level, including your claim, inspection, repair, and deductible.
Additionally, StormWise will actually take your deductible out of our own profit to ensure that you have the full cost of your repair covered– and you walk away paying absolutely nothing.
Sounds like a good offer? Get started by giving us a call now.