According to the Rocky Mountain Insurance Information Association's hail report, Colorado had the highest overall hail damage claims in the U.S. between 2017-2019. Over that three-year span, the "Personal Automobile" policy type for hail loss claims was second only to the "Personal Property Homeowners" policy type.
Colorado's most damaging hail season runs from around the middle of April to around September 15th. The Front Range is right in the center of "Hail Alley"! This is where the United States gets the largest hail storms.
Folks who live here are looking at about three or four considerably damaging hailstorms each year.
Read on to learn how to use the dent repair cost estimator to find out roughly how much you can expect to pay for the repairs.
Dent Repair Cost Estimator
You'll want to get yourself some good hail insurance if you live in Colorado. Over the last 10 years alone, these storms have cost Colorado residents over $5 billion in insured damage.
Don't worry, almost all insurance companies cover hail damage in the comprehensive insurance. If you live in one of the country's hail-prone areas, the insurance industry recommends you have this specific type of coverage.
Here at StormWise, we're providing you with a convenient dent repair cost estimator, to make it super easy to find out the amount you may have to pay, depending on the number, size of the dents and other factors.
Count and Measure the Dents Before You Start
Make sure you can see the dents in your car to get an accurate count.
Measure the size of the dents with a Dime, Nickel, Quarter and/or Half-Dollar sized coin. For example, if you can still see the dent by covering it up with a Half Dollar coin, then the dent will be considered 'Oversized'.
Follow the Calculator Steps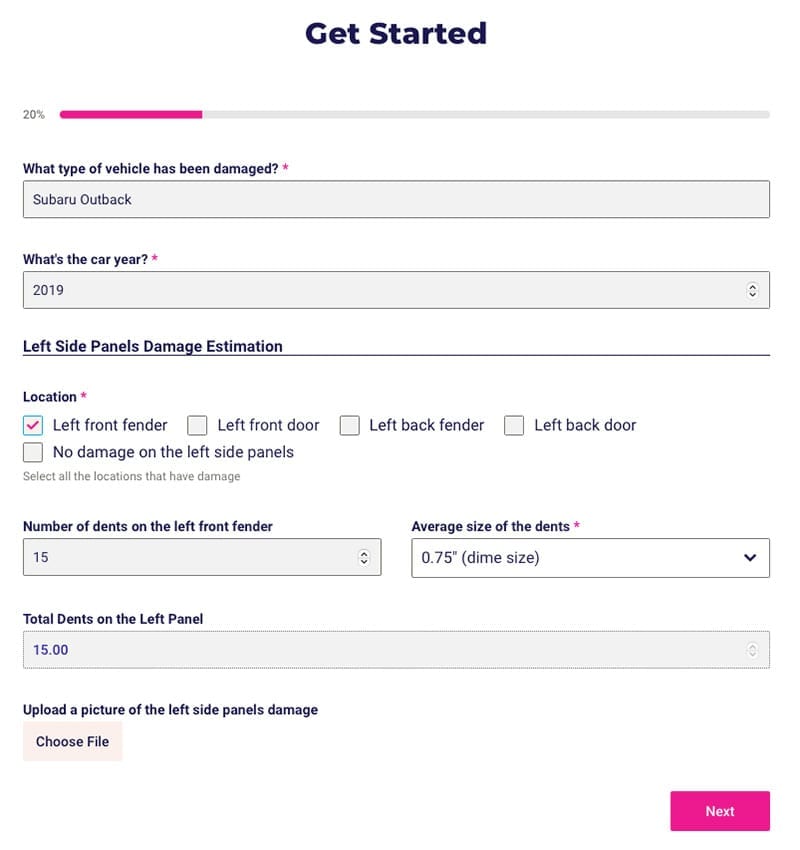 To get started, go to the dent repair cost estimator page. Enter the type of vehicle that's damaged. Then enter the year it was made.
Under "Left Side Panel Damage Information" you can select which area(s) was damaged. Your choices include: left front fender, left front door, left back fender, left back door, or no damage on the left side panels.
For my 2019 Subaru Outback, I chose "Left front door."
The next field of the hail damage estimator is where you put in the number of dents. Then move over to the next field and choose the biggest size of your dent(s) from the following options:
0.75″ (dime size)
0.835″ (nickel size)
1″ (quarter size)
1.5″ (half-dollar size)
>1.5″ (oversized)
I chose 15 dent with a size of 0.75″ (dime size).
The next field will show you the number of total dents on the left side panel. Next, you have the option to upload a photo of your vehicle damage.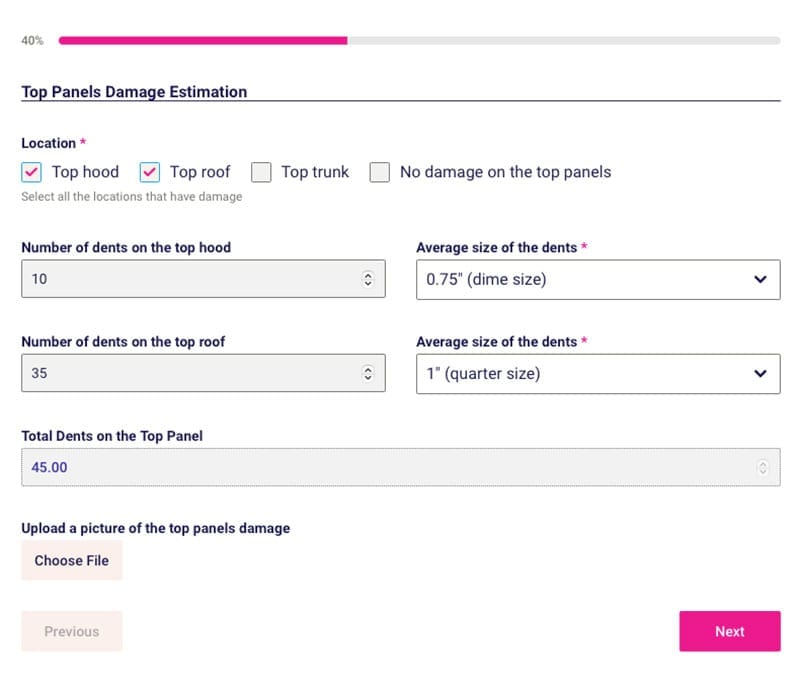 As you move onto the next page of the hail damage estimator, it'll ask you to enter information about any top panel damage. Following the same steps of the left-panel, I chose 10 dime size dents in the top hood, and 34 nickel size dents in the top roof.
The next page will cover the right side panels. I chose "no damage."
Move ahead to the next page and you'll see that you're asked "In Case We Lose Connection, Where Should We Send This Estimate?"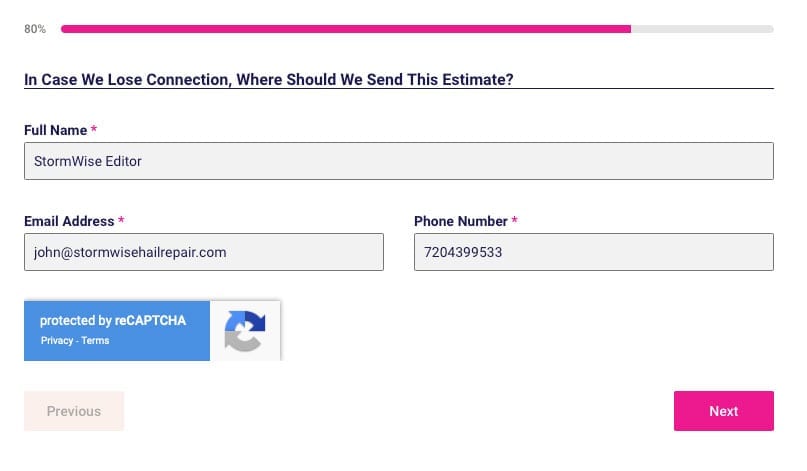 In this area, go ahead and enter your full name, a valid email address, and the best phone number at which to reach you.
How to Understand the Estimate
The next page of the hail damage car repair cost calculator is the last step, which is your preliminary report. Mine says Your car has severe hail damage. 😭.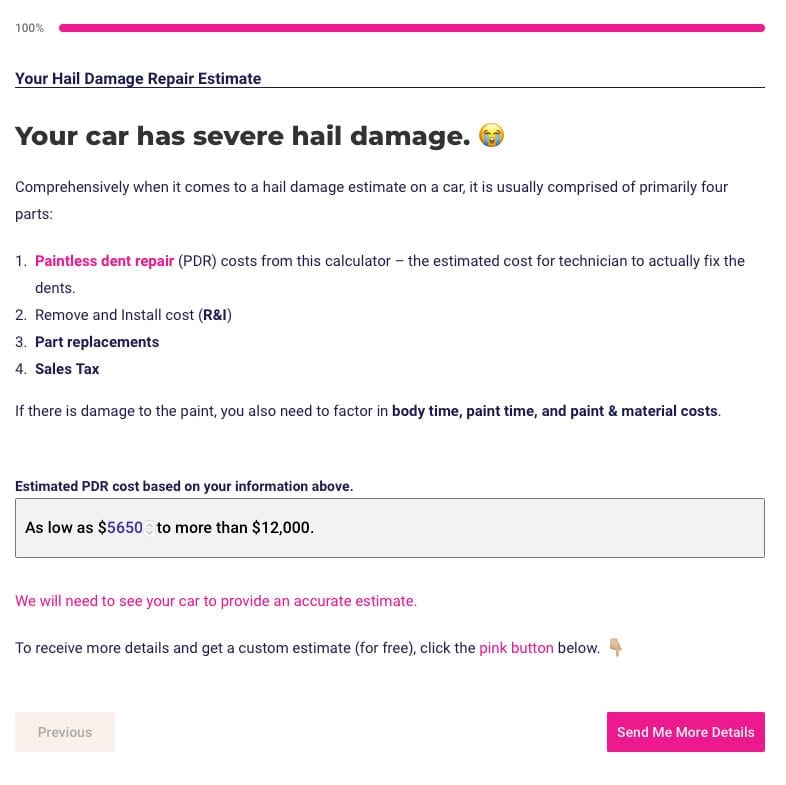 You'll see it conveniently explains for you the four main parts hail damage repair is usually comprised of, which are Dent Repair, Removal and Installation, Parts, and Sales Tax.
This is a paintless dent repair cost estimate, so if there's any damage to your vehicle's paint, you'll need to factor in thepaint time, body time, and paint & material costs as well.
My hail damage repair estimate, based on the information I entered above, my PDR cost is as low as $5,650 to approximately $12,000.
The estimate range, in the end, is huge. That's because the lower part contains a rough estimate of the PDR cost. Without knowing the specific location of the dents, it's hard to factor in other costs such as R&I cost, part replacement, etc.. So the higher end includes the average cost of such from similar hail damage based on our decades of experience.
That's why on the final step when we provide you a cost range, we also give you the option to receive contact from us to provide more details, which is highly recommended to get an accurate and free estimate.
Accuracy of the Dent Repair Cost Estimator
Accuracy of the estimator heavily depends on your ability to spot and measure the number and sizes of the dents. This is another reason the estimate provides a huge range based on our experience working with customers who did initial estimates using online PDR calculators like ours.
Believe it or not, counting dents can be very difficult for customers and even insurance adjusters. What's worse is to provide an estimate based on only the pictures you take. Since COVID, most insurance companies don't send adjustors to do a personal inspection. Taking pictures to show all the hail damage is a daunting challenge.
What's Included in My Hail Damage Estimate?
Let's talk more in-depth about the four estimate parts we mentioned above.
Note that a comprehensive "hail damage estimate" is what you receive when contacting StormWise, not something you can get from an online calculator, however, both are free.
You're looking at the "Paintless Dent Repair Estimate", which is the time and labor required by a technician to fix the actual dents.
Then you're going to have your "Remove and Install Cost (R&I)", which tell you the cost of removal and installation of parts as needed to reach the hail damaged areas of the vehicle.
Moving on to the next part, you're going to see "Part Replacements" which are replacements due to hail damage, such as the windshield or chrome moldings. These would need to be ordered from the manufacturer.
Finally, you have your "Sales Tax." And good news for you Colorado residents—you're only charged for sales taxes on vehicles and not on labor costs!
A hail damage estimate is a free assessment you would receive when contacting an auto hail repair specialist, like StormWise.
Why Should I Get a Hail Damage Estimate Online?
You'll want a quote from a great-quality, independent repair shop to protect yourself from low-ball insurance claims. Don't let yourself get taken advantage of in this respect.
To make sure you receive an accurate estimate, we will do a thorough assessment by inspecting the car in person. To do this, we'll either schedule a time for you to drop off your car or pick up your car if it is too far from our Denver repair center.
Getting a fair estimate can be pretty important—nearly as important as the repair itself. With this calculator, you'll be informed and educated on what would be a good ballpark range.
There is often a quicker turnaround as well.
Knowledge Is Power
Once you have this estimate, you have a reliable way to prove to your insurance company that you deserve more – trust us, you will need it. This easy-to-use dent repair cost estimator is a must-have for all Colorado residents in "Hail Alley."
Don't get taken advantage of (time and money-wise) by your insurance company! There are more enjoyable things in life to think about like which beautiful trail to hike once the weather finally cooperates.
Contact StormWise today and we'll take care of you right away.