Having a car in the auto body shop can be a stressful hassle, especially if you have to find alternate transportation to get to and from work, school, the grocery store, and anywhere else. The amount of time you'll have to wait for your car to be repaired can vary greatly depending on the severity of the damage, type of car, insurance claims, and more.
For over 20 years, StormWise has been dedicated to making hail, dent, and collision repair as stress-free as possible for customers. We put together this guide on how long does a collision repair take because we believe that part of a stress-free experience is having the right expectations.
Keep reading to learn about collision repair times including the average time it takes for certain repairs, stages of the collision repair process, and factors that influence the amount of time it takes to fix your vehicle.
What's in this Guide:
Average Collision Repair Time
If you're wondering, "How long does it take to repair a car after an accident?" then the answer is that it depends on the type of damage and other factors. The average auto body repair time can vary from a few hours to a few weeks or longer.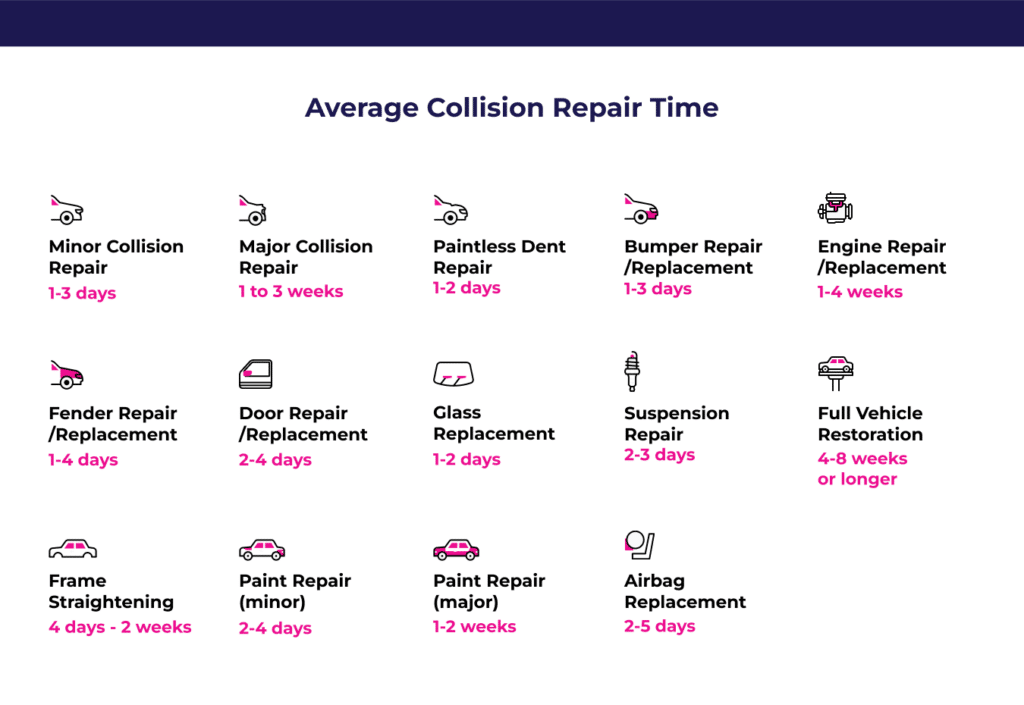 Because the range is so significant for how long do car repairs take, we compiled an easy-to-read table of average repair times for certain levels of damage.
| Type of Collision Repair | Average Time to Fix |
| --- | --- |
| Minor Collision Repair | 1-3 days |
| Major Collision Repair | 1 to 3 weeks |
| Paintless Dent Repair | 1-2 days |
| Bumper Repair/Replacement | 1-3 days |
| Fender Repair/Replacement | 1-4 days |
| Door Repair/Replacement | 2-4 days |
| Glass Replacement | 1-2 days |
| Suspension Repair | 2-3 days |
| Frame Straightening | 4 days – 2 weeks |
| Paint Repair (minor) | 2-4 days |
| Paint Repair (major) | 1-2 weeks |
| Airbag Replacement | 2-5 days |
| Engine Repair/Replacement | 1-4 weeks |
| Full Vehicle Restoration | 4-8 weeks or longer |
Stages of the Collision Repair Process
To understand the timeframe, it's a good idea to understand the stages of the collision repair process from initial estimate to vehicle completion.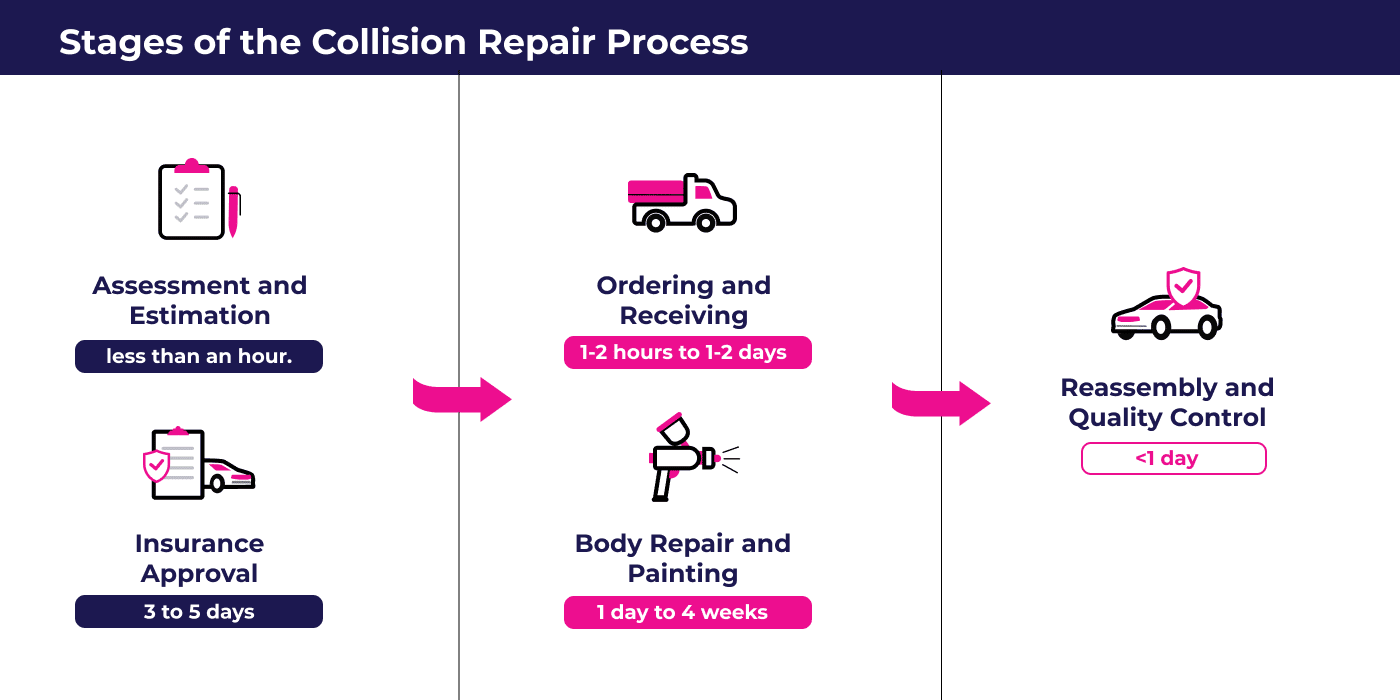 Assessment and Estimation
The first part of any collision repair service is the initial assessment and estimation. A repair facility will examine the damage to your car, estimate the timeframe and cost of repairs, take necessary photos and paperwork, and then provide the repair estimate to you, the vehicle owner.
Timeframe:  Many auto repair shops take several hours to a day or longer to provide an accurate estimate, but StormWise offers free estimates in less than an hour.
Get your Free Estimate within an Hour.
Insurance Approval
If you're using an insurance policy for your collision repairs, they will have to review and approve the estimate. In some cases, there may be some negotiating based on the required repairs, costs, and other information. Since the insurance company will have to determine if your vehicle is repairable and whether the cost of repairs is fair, this part of the collision repair process can take a few days or longer.
Timeframe: 3 to 5 days
Ordering and Receiving Parts (if needed)
Depending on the extent of damage, the make and model of the vehicle, and the damaged area, the collision repair shop may have to order replacement parts. Depending on the type of parts, this could take anywhere from a couple of hours to a few days or longer.
Timeframe: 1-2 hours to 1-2 days
Body Repair and Painting
The next stage of the collision repair process is the actual vehicle repair. This involves restoring the vehicle to factory specifications and ensuring that the car frame remains structurally sound. We'll remove dents, replace parts, and use premium paint to restore the aesthetic of your vehicle.
Timeframe: 1 day to 4 weeks depending on damage and other factors
Reassembly and Quality Control
Any detail pieces and final moldings will be put back on the vehicle during this step. Then, we'll wash, clean, and thoroughly inspect your vehicle to ensure everything looks great. In addition, all vehicle systems are checked and tested for safety and performance.
Timeframe: <1 day
Additional Factors to Consider
In addition to the typical stages of collision repair, you need to consider the possibility of hidden or additional damage that your collision repair technician may discover during the repair process. Some vehicles may also require specialized repairs like frame straightening, wheel alignment, additional auto detailing, or other services that can extend the repair time.
There is also a chance of supply chain issues, heavy mechanical workloads, and other potential situations that can lengthen wait time. In general, there are certain main factors to consider that affect how long does it take to repair a car. You can use these to determine a basic timeline of repairs.
Factors Affecting Collision Repair Time
Several factors affect the answer to the question, "How long does it take to fix a car?" Factors include the type of damage, availability of replacement parts, type of vehicle, insurance claims, and repair shop workload.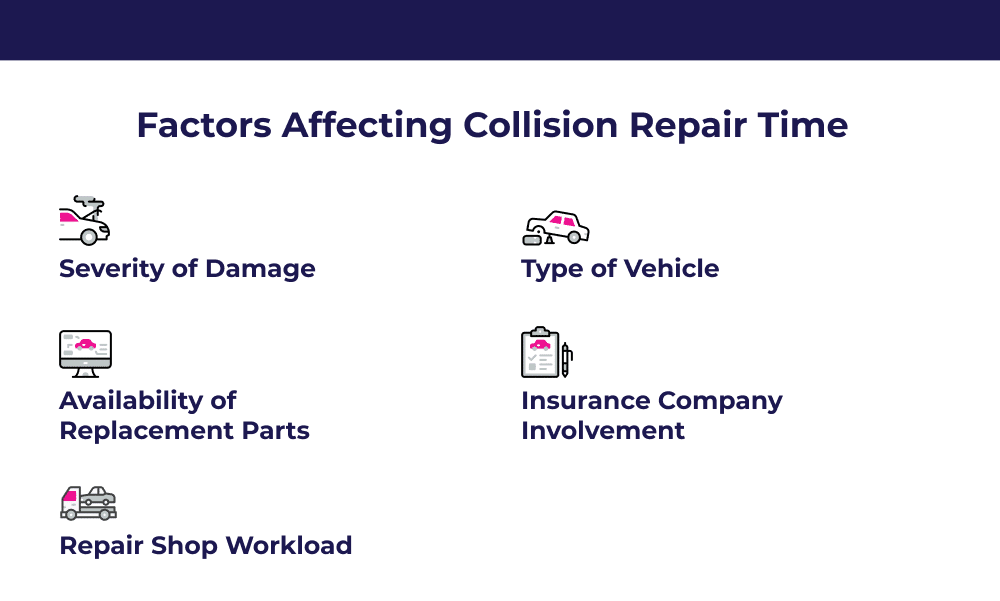 Severity of Damage
The type and extent of the damage are some of the main factors that will influence auto repair time estimates. For example, a minor dent from a fender bender that can be fixed with paintless dent repair will not take as long as a vehicle requiring a bumper replacement, new paint, and wheel alignment.
Availability of Replacement Parts
While many replacement parts only take a few hours to receive, some parts may take longer to deliver. Since your auto repair shop cannot start work until they receive the necessary parts, this can affect the amount of time you'll have to wait until you get your car back.
Type of Vehicle
While it may not seem like a big deal, the type of vehicle can make a huge difference in how long collision repair will take. Specialty or luxury vehicles, imports, and rare manufacturers will often take longer because they may require specific technicians, rare aftermarket parts, uncommon paint colors, and other factors that extend timeframe. It is also easier to find OEM parts for new cars than for older vehicles that aren't being made anymore.
Insurance Company Involvement
When an insurance company is involved in your collision repair, it will almost certainly increase the expected time estimate. That's because you and your mechanic will have to wait until the insurance agent files, investigates, and approves the claim. To speed up the process and reduce your stress, StormWise will work with claims adjusters and talk to your car insurance company on your behalf.
Repair Shop Workload
Auto repair technicians only have so much time, so if they are already busy with a full workload, then you may have to wait a little longer until they can get to your vehicle. While there is not much you can do about this, it's important to choose a reputable shop or collision center that considers your time. Plus, the best auto body repair shops will communicate with you so there are no surprises.
Conclusion
While you may be wondering, "How long does a collision repair take?" you may be surprised to learn that it can take anywhere from a day or less to several weeks. That's because many factors can affect the length of time for repair work including the severity of damage, type of vehicle, mechanic workload, and more.
Understanding the process can help you understand while it may be taking longer than normal, but it's important to be patient during the process. As long as you use a reputable auto repair service, they should communicate with you and do everything possible to ensure a smooth, fast, and reliable collision repair process.
Average Collision Repair Time FAQs
What do I use for transportation while my car is in the shop?
Whether you had a car accident or some other type of damage, finding transportation can be stressful. You may have options for transportation while your vehicle is getting collision repair. In some cases, your insurance provider may cover a rental car, for example.
StormWise wants to make sure your collision repair is as stress-free as possible, which is why we offer free pickup and drop-off for qualifying customers. For some services, we will provide a free rental car if your insurance company won't cover the cost.
Do you offer an automotive repair warranty?
Yes! StormWise offers a lifetime warranty on auto body work and accident repair services.
How long does it take to fix a front-end collision vs rear-end collision?
While it depends on many factors, rear-end repairs are often cheaper and faster than front-end repairs. That's because the front of your vehicle has the grill, engine, radiator, hood, windshield, and other considerations.
When is my car considered a total loss?
When the cost of repairs exceeds the value of the car, or often when it exceeds around 70-75% of the value of the car, then the insurance company will likely consider it totaled. While you can still get the vehicle repaired, the insurance provider will only pay the value of the vehicle and you'll have to pay any remaining costs.
What do I do if it's taking much longer than originally estimated?
If your mechanic is taking significantly longer than originally estimated, then you can call your insurance company to consider taking your vehicle to another garage. However, we recommend talking to your auto body shop to see what might be holding up repairs because another shop may have the same issue if it has something to do with your insurance claim, difficulty getting parts, or other supply chain issues.
How much does collision repair cost?
Similar to the answer to, "How long does a collision repair take?", Collision repair costs can vary greatly depending on a number of factors. That's why StormWise offers free, fast estimates so you can figure out your transportation and budget.
Get your Free Estimate within an Hour.