Ever noticed that annoying scratch from a random shopping cart or the dents from an unexpected hail storm on your car?
Everyday events can leave marks on our vehicles, diminishing their looks and value.
From minor touch-ups to significant fixes, auto body shops are the pros in bringing cars back to their prime.
Dive in, and let's explore what does an auto body shop do to keep your vehicle safe, maintain its worth, and ensure it looks brand new, no matter what life throws at it.
Jump here:
What Does an Auto Body Shop Do?
At its core, an auto body shop focuses on the intricacies of vehicle repairs, particularly pertaining to the vehicle's body and appearance. This domain is starkly different from a traditional mechanic shop or an auto repair shop.
While an auto mechanic delves into engine components and mechanical repairs like oil changes, the auto body repair shop zeroes in on body damage. Our article highlights the difference between auto repair and auto body shop.
Physical damage to your vehicle is more than a blow to its aesthetics. Dents, damaged bumpers, or compromised fenders can be indicative of deeper structural issues, potentially putting the vehicle's safety on the line. This is where collision centers or auto collision repair shops step in. They are adept at restoring and addressing both apparent and underlying damages, ensuring the vehicle emerges as good as new.
Before you decide between an independent body shop and one linked to a dealership, it's good to get a feel for what they offer. Knowing what does an auto body shop do can help you make the best choice, ensuring you're working with a shop that matches both your car's requirements and your insurance terms.
Typical Services They Provide: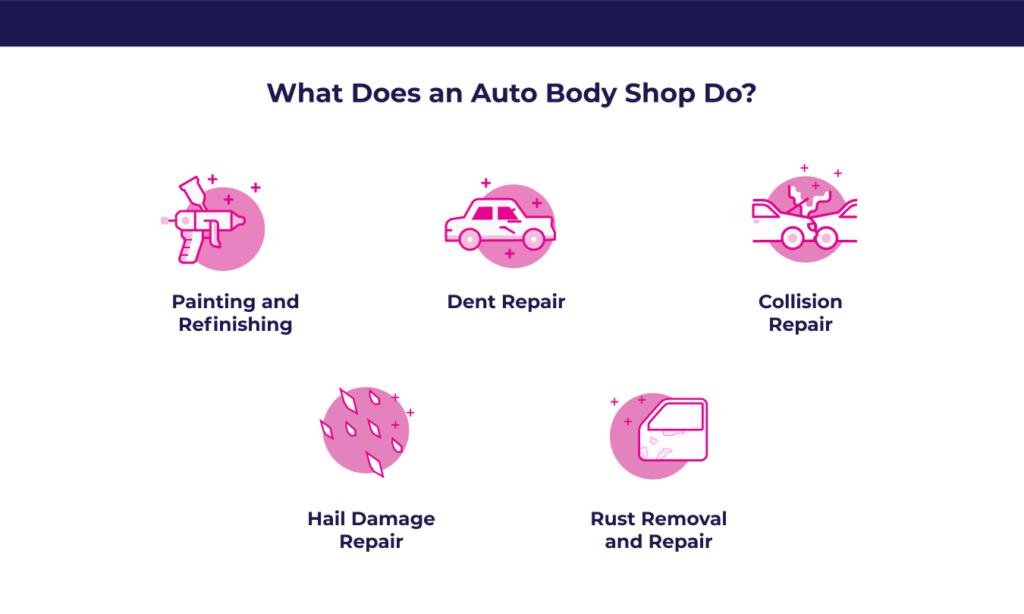 Painting and Refinishing

– It's not just about giving your car a new look.

Refinishing

also strengthens the body against wear and tear. So, from

sanding

and

clear coats

to full-on

paint jobs

, it's all about improving your car's looks and durability.

Dent Repair

– We've all seen those pesky dings and

dents

. Places like StormWise are really leading the way here, with cool methods like

paintless dent repair

(PDR) for smooth and traceless

dent

fixes.

Collision Repair

– Accidents happen, and when they do, it's all about getting your car checked out and fixed up. This is about more than just what you can see; it's also about the hidden bits of your car.

Hail Damage Repair

– StormWise again comes in clutch, helping fix those hail bumps and get your car back to looking spotless.

Rust Removal and Repair

– Rust is sneaky, and over time, it can really mess with your car. By tackling it early, you're avoiding bigger issues down the line.
Other services may range from windshield replacements to liaising with the insurance company for a hassle-free insurance claim. These shops also ensure certifications, like the i-car, vouching for their competence. But depending on the type of repair, they might employ techs specialized in specific domains like paintwork or replacement parts.
When considering what does an auto body shop do, don't just look at the immediate repair. Delve into aspects like the warranty on their work, ensuring that your vehicle remains protected long after the initial service.
Why Auto Body Repair is Essential
The love and investment we pour into our vehicles go beyond mere transportation means; they become an extension of our personality and a testament to our lifestyle choices. With the wear and tear of daily usage, occasional mishaps, and unforeseen accidents, the need for auto body repairs becomes inevitable.
Fixing up your car isn't just about making it look good on the outside. It's really about what car ownership means and making sure your ride lasts a long time. Let's break down what does an auto body shop do with these repairs and why touch-ups are more than just a fresh coat of paint: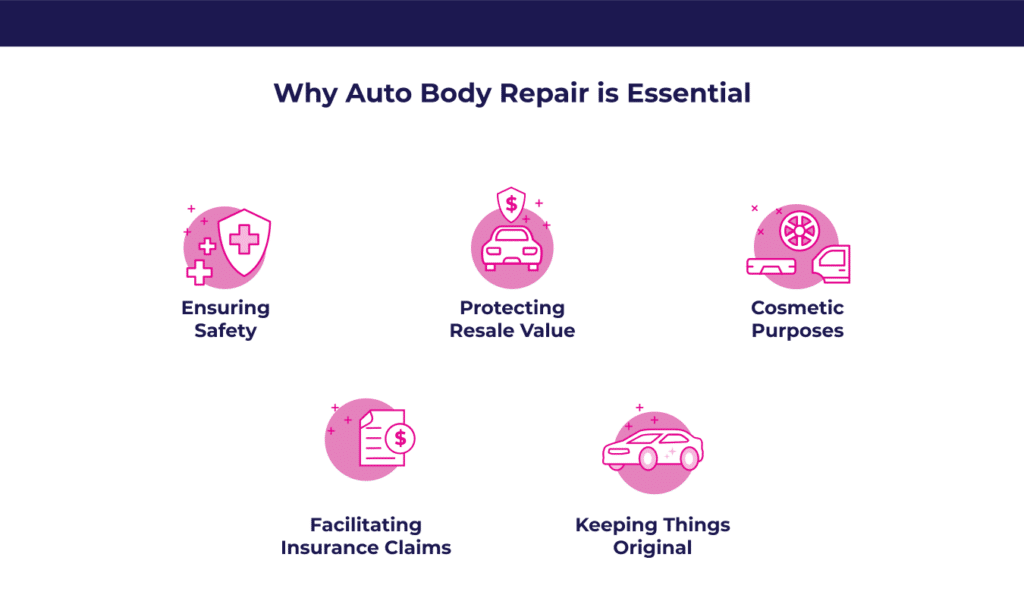 Ensuring Safety
Damages, especially from auto collisions, can compromise a vehicle's structural integrity. Whether it's issues with the body panels, damaged bumpers, or fenders, ensuring that these are adequately addressed at a reputable auto body repair shop or collision repair center is paramount. This ensures the safety of both the driver and passengers.
Protecting Resale Value
A well-maintained car, free from dents, rust, or scratches, will undoubtedly fetch a better resale value. This is especially true in bustling markets like New York, where vehicle appearance can significantly influence a sale. By liaising with a competent auto body shop for timely vehicle repairs, you ensure a commendable return on your investment.
Cosmetic Purposes
Beyond the functional aspect, there's an undeniable pride associated with driving a pristine vehicle. Whether it's a simple paint job, refinishing to restore the clear coat, or more intricate bodywork to address dents and body damage, maintaining your vehicle's appearance boosts confidence and ensures a pleasant driving experience.
Facilitating
Insurance Claims
After an accident or damage to your car, diving into the world of insurance claims can feel a bit overwhelming. But a good auto body shop makes this a breeze by teaming up with insurance companies. It's like having a helping hand to make sure your car gets fixed and maybe even save a bit on costs.
Keeping Things Original
Original engine components and body parts play a pivotal role in maintaining the car's performance and authenticity. Auto body shops get this and often choose to spruce up and keep those original components, rather than swapping them out. If you look closely at what does an auto body shop do, it not only maintains the car's originality but also ensures that it functions optimally, mitigating the need for frequent mechanical repairs at a mechanic shop or dealership.
In Summary
Understanding what an auto body shop does can guide us in maintaining our vehicles, ensuring they remain safe, valuable, and aesthetically pleasing. Whether it's for minor cosmetic reasons or significant structural repairs, an auto body shop plays a pivotal role in car maintenance. So the next time your vehicle needs some TLC, remember the expertise and care an auto body shop like StormWise can offer. After all, it's not just about restoring a car; it's about ensuring a safer and smoother journey ahead.
Looking to give your vehicle the care it deserves? Dive deeper into what an auto body shop can do for you and choose the best for your car. Check out our services.