When your car starts showing signs of trouble or has been involved in an accident, the immediate question that comes to mind is, "Where do I take it for repairs?" Two common options are an auto repair vs body shop. While both offer services that get your vehicle back on the road, their areas of expertise differ significantly. 
In this blog post, we'll delve into the differences between auto repair vs body shop to help you make an informed decision tailored to your car's specific needs.
Jump Here:
What Is An Auto Repair Shop For?
Auto repair shops primarily focus on the mechanical aspects of your vehicle. These are the places you'll visit for engine troubles, brake issues, oil changes, and other services related to the internal mechanisms of your car.
List of Services
Engine diagnostics and repair

Brake servicing

Oil and filter changes

Transmission repairs

Battery replacements

Tire rotation and alignment

A/C and heating systems repair
When do you need them
If your car is facing issues that affect its performance, safety, or overall drivability, then an auto repair shop is your go-to option.
What Is An Auto Body Shop For?

An auto body shop specializes in repairing external parts of your car like dents, scratches, and collision damages. They're experts in making your car look good as new on the outside.
List of Services
Paintless

dent

repair (PDR)

Collision repair

Painting and refinishing

Glass replacement

Rust repair

Fender

reconstruction
When do you need them
If your car has external damages due to an accident, weather conditions such as hail damage, or just daily wear and tear that affects its appearance but not its mechanical functionality, you should opt for a body shop.
Knowing What Your Car Needs: A Detailed Guide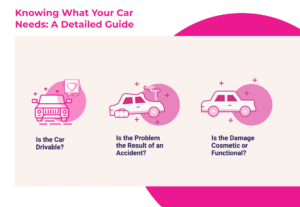 The key to a smooth and efficient repair process is understanding what your car actually needs – whether it be auto repair vs body shop or something else. For first-time car owners or those unfamiliar with the repair work landscape, knowing how to accurately diagnose your vehicle's problem can not only save you precious time but also keep you from burning a hole in your wallet. Here's a deeper dive into the factors you should consider when choosing auto repair vs body shop:
Is the Car Drivable?
Auto Body Shop
If your car has sustained body damage like dents, scratched paint, or bumped fenders but is otherwise drivable, an auto body repair shop should be your destination. Many body shops offer a comprehensive range of services specifically tailored to handle these types of non-moving parts' issues, from body panels to bumpers.
Auto Repair Shop
On the flip side, if the engine components are making strange noises or the car isn't driving smoothly, then it's more of a job for an auto repair shop. They are specialized in handling mechanical work that affects your car's performance and drivability. If your car is not drivable due to mechanical issues, consider contacting a mechanic shop for proper repair work.
Is the Problem the Result of an Accident?
Auto Body Shop
Collision-related damages like a dented bumper, or broken body panels, require the expertise available at collision centers. These shops are well-versed in collision repair, and they can help you navigate through the insurance company claims to get your vehicle back to its best shape.
Auto Repair Shop
For problems stemming from your vehicle's regular wear and tear—think issues with your oil changes or brakes—an auto repair shop is more suited for the task. This type of repair often falls under "regular maintenance."
Is the Damage Cosmetic or Functional?
Auto Body Shop
In case of cosmetic damages, such as a minor fender bender that's left a mark on your paint job, an auto body shop is skilled in restoring the aesthetics of your car. They handle all sorts of body work, including paint jobs to cover those unsightly scratches.
Auto Repair Shop
Contrarily, if you're experiencing functional problems that compromise safety or affect the car's performance—like brake failures or transmission issues—your best move is to an auto repair shop. They are proficient in dealing with mechanical work that directly impacts how well your car runs.
Key Differences Between Auto Repair vs Body Shop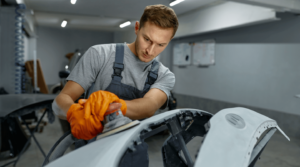 Understanding the nuances between an auto repair vs auto body shop is vital for making informed decisions about your car's repair needs. While auto repair shops are your go-to for anything internal and mechanical, auto body shops focus on external body work and cosmetic restoration.
Insurance Company & Deductibles
It's advisable to consult your insurance company about deductible coverage for different types of repairs. StormWise offers assistance with deductible coverage and even provides a lifetime warranty for added peace of mind.
Conclusion
Understanding the difference between an auto repair vs body shop is crucial in ensuring that your car receives the appropriate care it needs. When in doubt, don't hesitate to seek professional advice to avoid costly and time-consuming mistakes. 
StormWise is dedicated to providing a seamless customer experience with services like fair pricing, fast turnaround repair services, and a lifetime warranty, ensuring that your car is 100% dent-free. So whether it's a minor dent or a major mechanical issue, you know who to turn to!

Have more questions about where to take your car for specific issues? Contact StormWise Auto Body Shop today for a fair and transparent estimate, and enjoy the peace of mind that comes with our lifetime warranty.